Distinguished by its natural surroundings, lush forest, and serene atmosphere, Krabi has become a special tourist destination among the global audience. Numerous tourists come to this lovely location every year to unwind or seek adventurous fun with their friends. Due to its popularity, the area is brimming with luxurious resorts and private pool villas, allowing you to choose your ideal stay to unwind on vacation. The ambiance in Krabi is quite interesting as you can experience both a soothing and chaotic environment. Visit this fascinating location on a holiday trip and enjoy your tour to the fullest. 10 most fun things in Krabi
10 most fun things in Krabi
Krabi is a place that is filled with endless fun and possibilities. Every location in this resort town is fascinating to visit in a Krabi trip package. Check the description below to learn more about the exciting things in Krabi.
Visit Koh Poda
Hot bath in Klong Thom Hot Springs
Tiger Cave Temple
The Old Krabi Town
Phi Phi island
The Railay beach
Wat Tham Sua
Shopping at Krabi Night Market
Tab Kak Hang Nak
Tup Island
1. Visit Koh Poda
Koh Poda is currently a well-liked tourist spot among travelers for its exciting water activities. If you are visiting Koh Poda, indulge in water sports such as kayaking, snorkeling, boat rides, and swimming. Located in a tropical region, this location in Thailand is captivating for its relaxing ambiance. To enjoy the natural surroundings, trek to the stunning cliff tops and take in the picturesque scenery around the island. Certainly, one of the fun things to do in Krabi is visiting Koh Poda island.
Also, read: Visit Las Vegas The Most Attractive City
2. Hot bath in Klong Thom Hot Springs
Klong Thom Hot Spring, which is close to the Phra Bang Khram Nature Reserve, is an excellent destination for a family trip. You will completely feel relaxed as you are soaking in the natural hot water surrounded by a calm and gentle environment. The experience of bathing in the Klong Thom Hot Springs will make you rejuvenated and you will have the most peaceful time here. As you are visiting the place you can also stop by the Emerald pool which is located nearby. To banish your stress away, visit this exquisite place on your Krabi holiday trip.
3. Tiger Cave Temple
To learn about Krabi's historical background, visit the Tiger Cave Temple. Visiting this location entails discovering some of the unique architectural marvels and ancient ruins. This Buddhist temple in Krabi is distinctive for its old caves engraved with tiger paw prints and exquisite Buddha statues. Apart from its cultural fascination, the temple is commonly visited for its splendid sightseeing visit as. The temple is located in a mountainous tropical area where you can enjoy the striking natural scenic views of Krabi.
10 most fun things in Krabi
4. The Old Krabi Town
Krabi's true beauty is not in its tranquil natural surroundings but can be found in the vivacity of the local environment. One such exotic place to visit is Krabi Town. This old town of Krabi is not frequently visited by many tourists, but it's truly a hidden gem, withholding the traditional charm of Krabi. The subtle environment of this location allows one to enjoy a calm and relaxing time. Discover some of the finest local restaurants to sample the amazing Thai cuisine. Being one of the old towns, the place reflects the historical significance of Thailand.
5. Phi Phi Islands
Phi Phi Island is not only a place renowned for its aesthetic scenery, but it is also a great place to enjoy a relaxing time. The most well-known destinations in the Phi Phi islands are Phi Phi Don and Phi Phi Le. From thrilling water sports to luxury spa treatments, everything is available at this place. Whether it be a solo trip or a fun vacation with family and friends, Phi Phi Island is an exotic destination to have a great time. When you visit this place, make sure you also visit the Mu Koh Phi Phi National Park, which is located nearby.
10 most fun things in Krabi
6. The Railay Beach
Any adventurer would undoubtedly be enticed by the captivating mountainous regions of Railay beach. From adventure activities to stunning sightseeing locations, the beach is an awesome place to visit in Krabi. Given its massive mountains, most visitors indulge in rock climbing and trekking. You can also take part in several water activities like scuba diving, sea canoeing, and speedboat tours. Visit this stunning location as part of your Thailand trip and enjoy the most amazing fun at Railay Beach.
7. Wat Tham Sua
The Wat Tham Sua temple, which is surrounded by beautiful natural scenery, is one of the best locations to visit in Krabi. Regardless of the various other attractions, the "footprint of the Buddha" is the main draw to this place. As you visit the place, witness the stunning idols and unique architectural Buddha sculptures in the temple. To reach the summit, engage in climbing a limestone tower consisting of 1,237 stairs. As you ascend, you will be able to see the beautiful panoramic vistas of tropical islands.
8. Shopping at Krabi Night Market
Who wouldn't finish a tour without shopping? The Krabi Night Market is one of the best places where you can find excellent shops in Krabi. You will see numerous street stalls and boutique shops surrounding the lively streets of the Krabi Night Market. A location is a great place for foodies, shoppers, and for anybody who is looking to have a good time. From souvenirs to delicious local street cuisine, this place has everything you could desire. Visit the Krabi Night Market for a fun shopping experience in Krabi.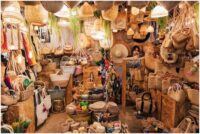 10 most fun things in Krabi
9. Tab Kak Hang Nak
Trekking at Tab Kak Hang Nak is one of the many ways you may get a close encounter with nature in Krabi. Hang Kak is a mountain park to discover a great variety of tropical plants. The park is one of the most alluring places to visit in Krabi because of its lush vegetation. The hiking trail at Tab Kak Hang Nak is a well-known spot to visit on a Krabi trip. Given its stunning views, you will want to capture some photographs with your loved ones at this location. Take in the stunning scenery from the viewpoint and enjoy the best visuals on your Krabi trip.
10. Tup Island
Pay a visit to Tup Island if you want to have a relaxing day while you're on vacation. Despite being a smaller island than the others, this place is worthwhile visiting on a romantic trip. The main highlight of the place is the sandbar, which connects Koh Mur and Tup to Chicken Island. Taking a romantic walk on the sandbar with your partner will be an ideal activity on your honeymoon trip. This location in Krabi is a beautiful place where you can enjoy a calm and intimate atmosphere with your loved ones.
Book your Krabi trip at Pickyourtrail and enjoy the most fun-filled experience of your trip. We help you customize your perfect itinerary to enjoy a happy vacation.