Bali is the most crowd-pleasing island in the Indonesian archipelago. This destination is most famous for its cobalt blue beaches and temples. With time, Bali has developed to meet the demands of any given traveler. Hence, you find this place on the bucket list of many travelers, making your Bali tour package highly sought-after.
Due to its geographical location, the produce and sea life is as fresh as it gets. No wonder, the cuisine here is absolutely delectable. While there is no shortage of high-end restaurants serving elegant cuisines, the street food here is not worth missing. Keeping that in mind, we have compiled a list of
The flavor affair 10 local street food dishes to try in Bali
Babi Guling

Terang Bulan

Sweet Corn

Bakso

Rujak Bulung

Laklak

Nasi Tepeng

Pisang Rai

Nasi Jinggo

Sate Lilit
1. Babi Guling:
First on our list is the Babi Guling or the Balinese Roasted Pig. It can be found on the menus of popular restaurants as well as on the streets being sold by vendors.
Originally a ceremonial dish, it has now become a staple in the street food scenario. The animal is marinated with turmeric powder and stuffed with a special mix of authentic spices. The spice mix comprises a variety of ingredients – lemongrass, shallots, galangal, and so on. It is best served with steamed rice, fresh vegetables, and spicy sambal. This is one of the best local street food dishes to try in Bali.
2. Terang Bulan
It is one of Asia's classic desserts and is popular here too. It mimics the texture of a pancake. Tourists can choose between a stuffing of  – condensed milk, nuts, chocolates, cheese, or a heavenly mix of all of these ingredients! It is also known as Martabak.
3. Sweetcorn:
Every Bali sunset that you witness is incomplete without freshly grilled sweetcorn. Sweetcorns are mostly famous on beaches like the Kuta, the Jimbaran etc. Pre-preparation includes coating the sweetcorn with a healthy lump of butter and additional sauces. These may include chili or barbecue sauces. This very combination of sunsets and sweetcorn makes this one of the best local street food dishes to try in Bali.
4. Bakso:
Bakso is Indonesia's take on meatballs. It is served in hot broth with noodles and fried dumplings. Bakso can be prepared with a variety of meats – seafood or chicken or animal meats can be used. The Surimi sauce, used in its preparation is what makes it different from its counterparts. It transmits a rich flavor to this delicacy. This classic meatball is definitely going to leave you craving for more. It is one of the top contenders when it comes to being in the list for 10 local street food dishes to try in Bali.
5. Rujak Bulung:
Rujak is simply put – an Indonesian fruit salad. This traditional dessert is prepared in many different ways depending on the region. The Balinese take on this classic uses components from the sea. The ingredients used here are fresh Tuna to create the dressing for the salad, and also seaweed to spruce up the dish. It is also called Rujak Kuah Pidang.
6. Laklak:
Laklak gives a fresh sweet and savory taste to your palate. It is a traditional Balinese cake. Its main ingredients include rice flour and coconut milk.  It gets its unique green color from Pandan, Suji leaves which are exclusively found in this region. It is best served with coconut gratings or a brown sugar sauce with Jackfruit. This treat can be enjoyed with morning coffee or afternoon tea.
7. Nasi Tepeng:
Nasi Tepeng is a common breakfast dish among the locals. It has a texture partway between that of rice and porridge. Several herbs and spices go into the preparation of this classic like – cayenne pepper, red chili, garlic, and so on. Fried chicken, long beans, kidney beans, etc are some dishes that go well with this dish.
8. Pisang Rai: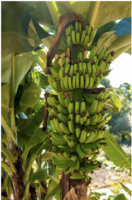 Pisang Rai contains two main ingredients – Banana and Coconut. This dish denotes tropical cuisine at its finest. The banana slices are covered in rice flour and coated thoroughly with coconut gratings. The end product is a snack with savory and sweet flavour. It is often served with a sauce made from brown sugar and pineapple pieces. This enhances the bold tropical flavors of this dish.
9. Nasi Jinggo:
The Nasi Jinggo is a well-rounded dish. It has everything one could ask for – rice, a side dish, vegetables, and condiments. All these delicious components are packed into a banana leaf. This makes the ideal food to consume on the go. However, it is only found in small portions. It is served with a variety of side dishes ranging from eggs to seafood.
10. Sate Lilit:
The Sate Lilit is an exemplary combination of sweet, spicy, and savory flavors. Sate Lilit (Satey) is essentially grilled meat pieces on skewers. This popular Indonesian dish finds its place on menus of high-end restaurants as well as on the streets of Bali. Every region has its own take on this wildly popular dish, the essentials however are more or less the same. Meat (chicken, fish or pork) is first minced and then coated with coconut gratings and various spices in coconut milk. The spiced meat is then grilled. Sauces are optional as it is already packed with many spicy flavors. This dish will get your mouth singing. The Sate Lilit is definitely one of the best local street food dishes to try in Bali.
Bali's cuisine is as vibrant as its scenery. Bold flavors take the stage front and center in the dishes here. Explore the best of Bali with travel packages at Pick your Trail. We customize our travel packages with your needs in mind to help you have the best trip. We hope that you have pleasant travels. So this is it in The flavor affair – 10 local street food dishes to try in Bali.

Important Link