Any person who loves traveling would wish to visit Bali at least once in their lifetime. Bali, a haven of natural surroundings, is the most enchanting tourist destination. From remote islands to luxury private clubs, Bali is a place filled with endless fun and excitement. If you are looking for a romantic getaway or just simply want to spend a relaxing vacation, visit Bali for a wonderful experience. Not only is this place affordable to visit. But it is also a place with limitless possibilities and enjoyment. For a memorable holiday trip, visit Bali and experience the most amazing journey of your life.
What are the top 10 experiences in Bali?
1. Bali swing
One of the hotspot locations which has recently gained huge recognition on social media is the Bali Swing. Because of its popularity, this location has become a must-visit place in Bali. To enjoy the most thrilling experience, partake in the Bali swing. As you swing back and forth admiring the stunning scenery, you can capture some of the best pictures to post on your Instagram. The place is most often visited by couples who come here for a romantic photoshoot on the swing. To experience the utmost thrill and excitement, visit this location in Bali as part of your Bali tour packages and create an unforgettable memory.
Price for Bali swing: $35 USD
Location: Abiansemal, Kabupaten Badung, Bali.
2. Sunset at Crystal Bay
One of the best ways to enjoy your time in Bali is by watching the glorious sunset view at Crystal Bay beach. Distinguished as a famous tourist beach destination in the Nusa Penida islands, Crystal Bay beach is an ideal place to unwind and enjoy a peaceful time. Given its tranquil environment surrounded by rocky seashores, this exotic beach in Bali is a perfect place to visit with your partner. In the evening, engage in a romantic beach walk as you admire the beautiful sun falling behind the mist-covered mountains. When visiting the place, you can rent a motorcycle and take a tour of the nearby attractions at Crystal Bay Beach. Aren't you enthralled by such a unique experience? If yes, plan your itinerary to visit Crystal Bay beach and enjoy the most beautiful sunset view at this location.
Location: Nusa Penida island, Bali.
3. Scuba diving in Tulamben
Who wouldn't love an underwater exploration? The thrill and the excitement of witnessing the amazing aquatic life is such an exquisite experience. With its amazing island location, Tulamben is one of the fantastic destinations to enjoy an incredible scuba diving experience. Tulamben in Bali is a fishing village that is home to stunning coral reefs and marine animals. The main reason why many divers visit this place is that you can spot several old shipwrecks located underwater off the Tulamben beach.
Price for Scuba Diving: $75 (Rs. 6000)
Location: East coast of Bali
4. Mount Batur Trekking
Trekkers love this spot as it is the most unique location in Bali which is renowned for its stunning mountain views. Mount Batur is the best place in Bali to enjoy an exhilarating trekking experience. Start your Mount Batur trekking early in the morning to avoid the hot sun. And while trekking you can also pay a visit to the natural hot springs and jungle swing, which are located on the way to the summit.
The ideal climate and stunning plantation sites will allow you to enjoy the most amazing trekking experience in Bali. Trekking at Mount Batur is one of the best experiences as you will feel rejuvenated after watching the beautiful sunrise from the mountain peak. Experience the remarkable natural beauty and enjoy a great time admiring the lush vegetation of the Balinese coffee plantations.
Sunrise trekking price: $6 (Rs. 475)
Location: Monkey Forest, Ubud, Bali.
5. Shopping at Seminyak Square
Shopping is one of the ideal activities that cannot be missed on a trip. And shopping at Seminyak Square can be even more special as this place is very entertaining for shopping excursions. This commercial area in Bali is one of the lively locations to explore the unique Balinese culture.
Because of its vibrant ambience, Seminyak Square is simply entertaining to visit. The whole place is always crowded, giving a chaotic beauty and a source of amusement to foreign visitors. From fancy restaurants to branded retail stores, this area offers a wide range of shopping sites to enjoy on your trip. Visit some of the restaurants located here and fill your tummy with the most delicious Balinese food.
Location: Jl. Kayu Aya No. 1, Seminyak, Kec. Kuta, Bali.
Timings: 10 a.m. to 10 p.m.
6. Tanah Lot Temple
Due to its breathtaking scenic views, Tanah Lot temple is one of the most famous tourist attractions in Bali. This ancient structure is a significant historical landmark in Bali, attesting to the fascinating history of Balinese Hinduism. Established in an offshore setting, this temple is also a great destination to witness beautiful natural landscapes.
According to the ancient manuscripts, this temple was built in devotion to Lord Baruna, symbolizing the peace and unity between the land and sea. In recent years, the temple has captured the eyes of the tourists who come here to take amusing photographs of the beautiful scenery. Visit Tanah Lot Temple in Bali and experience a wonderful cultural journey on your Bali trip.
Entrance fee to the temple: $ 4 USD (Rs. 320)
7. Tanjung Benoa Snorkelling
For beach enthusiasts, visiting Tanjung Benoa Beach would be a wonderful experience. Since it is a location well known for its adventurous water activities. This place is also a great location for sightseeing, with beautiful scenic landscapes. The gleaming white sand, turquoise sea water, and tranquil environment allowing you to enjoy the exotic beach life experience. Top 10 Experiences in Bali
Most tourists visit this spot for its entertaining water games, which include speed boat rides, jet skiing, snorkeling, and sea kayaking. Of all the adventures, snorkeling at Tanjung Benoa beach is an exciting activity to experience with your friends. With its diverse marine life and unique coral reefs, Tanjung Benoa Beach is a beach paradise with endless amusement for visitors. Also, read Thailand Travel Guide
Snorkeling price: $40 (Rs. 3192)
Location: Southeast of Bali, Indonesia.
8. Photo at Bali Handara Gate
Particularly popular among photographers. Bali Handara Gate is a stunning tourist location in Bali that is well known for its fantastic photo opportunities. With beautiful scenery serving as a backdrop, this location is a great place for capturing stunning photographs. Presently, the Handara Gate serves as the entrance to the golf resort.
The place is also an ideal vacation spot to enjoy a relaxing time with your friends and family. The lush green mountains, the tropical rainforest, and the soothing climate all make this place a great spot to visit on a Bali trip. Due to its aesthetic exposure to natural surroundings. This location in Bali is an iconic spot for relaxation and refreshment. Top 10 Experiences in Bali
Location: Denpasar, Sukasada district, Bali.
9. Sightseeing at Tegallalang Rice Terrace
One of the breathtaking spots in Bali with stunning visuals and captivating scenery is the Tegallalang Rice Terraces. Surrounded by a peaceful environment, this area is a remarkable spot to visit on a family vacation. While visiting the area, interact with the locals and learn about their daily lives. If you are visiting this place in the evening, you can get to witness the breathtaking view of the sun falling behind the green-covered mountains. Visit this place with your family and enjoy a fun time taking pictures in this wonderful area.
Location:Jl. Raya Tegallalang, Tegalalang, Kabupaten Gianyar, Bali.
Sunrice Point Entrance Fee: $ 3 USD (Rs. 250)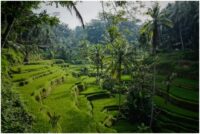 10. The Agung Rai Museum of Art
The Agung Rai Museum, which is devoted to conserving traditional Balinese art and culture, is one of the great tourist destinations in Bali. The museum was built in 1996 by Dr. Wardiman Djojonegoro to preserve both traditional and contemporary Indonesian artworks. If you are an artistic person, you will have a great time here.
Visitors visiting the museum are entertained with traditional dance performances to showcase the fascinating Balinese art. Given its calm and aesthetic ambiance, this location is a vital place in Bali to discover the amazing Balinese artwork collections. Top 10 Experiences in Bali
Location: Jalan Raya Pengosekan, Mas, Ubud, Gianyar, Bali, Indonesia.
Entrance fee: $ 6 USD (Rs. 536)
So, here are the top interesting sites to enjoy the top 10 experiences in Bali trip. Book your Bali trip at Pickyourtrail and take advantage of the available packages offered on our website.