At the junction of the Bay of Bengal and the Andaman Sea. There lies the most beautiful as well as a mysterious group of Islands Andaman and Nicobar. This group of islands includes a total of 572 Islands among them only 37 are currently inhabited. For arranging the Andaman tour plan please contact your local Travel associate Travelers partner. They can arrange more such customized tour package. For abroad and India at an affordable price range. You just need to do some research and compare the facility and costs they provide.
Andaman Tour Plan – Let's begin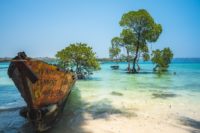 On day-1, of your trip 1st, reach Veer Savarkar international airport of Port Blair from your home town. Port Blair is the capital city of Andaman and we start our tour from Port Blair. Upon reaching Port Blair check in to your hotel. In the afternoon, go to visit Cellular Jail. Cellular jail- the most notorious BritishColonial prison located in Port Blair came into force in the year 1906. It was mainly used to hold the political prisoners captive. Where they faced inhuman torture from the ruling British Government officials. The prison is now a national memorial monument that showcases. The horrifying life of the prisoners. Who stayed here during the British era. In the evening, you can witness an audio-visual version of the terrifying and darkest period in the history of India through the light and sound show here.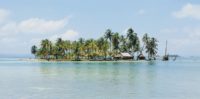 Sea Beach of Neil Island Sitapur.
On day-2 go to Neil Island from Port Blair. Neil Island is a part of the South Andaman AdministrativeDistrict, separated from the Ross Island and Havelock Island by a large part of Bay of Bengal. At Neill Island, you can see the largest vegetable plantation of the Andaman Islands. Upon reaching here first check in to your hotel and then go to visit Bharatpur beach. Half a kilometer away from the jetty of NeilIsland, Bharatpur Beach is a virgin white sand sea-beach with blue water. You can enjoy speedboat ride, swimming, and other adventure activities here. From there visit another beautiful sea-beach of Neil Island Sitapur.
It is also a pristine and less crowded beach in Neil Island. Next, go to Laxmanpur Beach. It is a remarkable white sand beach ideal for sunbathing and swimming. The Laxmanpur is one of the most visited beaches in India due to its natural beauty. This beach is a great combination of blue and clear water with tropical trees. You can enjoy a guided trip to this island where you can get a closer view of the marine lives of this island. The main attraction of Lakshmanpur beach is the famous naturally shaped bridge-like rock formation known as the Howrah Bridge. You can enjoy a spectacular sunset here.
Havelock Island Best for Couple Trip
On day -3, go to Havelock Island from Neil Island. Havelock Island is one of the largest islands in Andaman and Nicobar. Situated 57 km north-east of Port Blair the island is surrounded by white sand beaches. Crystal-clear blue water, rich corals, and lush green tropical forests. This place is really like a paradise on earth. Upon reaching Havelock Island Check-in to your hotel then after go to visit Radhanagar beach. Radhanagr beach is a beautiful white sand beach with turquoise blue waters. It is almost 12 km away from the main HavelockIsland and is the prime tourist attraction of this place. Roam around the beautiful white sand beach and if you are an adventure enthusiast you may enjoy snorkeling to get a closer look of this coral reef.
Kala Patthar beach
On day-4 morning, go to visit Kala Patthar beach. Kalapathar beach is a long stretch of white sand beach dotted with big black rocks beside the blue sea. It is less crowded and one of the most beautiful beaches in Havelock Island. From Kala Patthar beach, go to visit Vijaynagar beach. Vijaynagar Beach is most frequently visited for beach exploration. Bird watching, and other water sports activities. If you wish you may enjoy adventure activities here.
On day-5 return back to Port Blair. After lunch, go to visit Chatham Sawmill. After entering the sawmill complex, the first thing you notice is the Chatham Forests Museum. The museum showcases a rich collection of photos of the islands, underwater lives, and tribal handicrafts. Next, explore the sawmill. Chatham Saw Mill is a 19th Century sawmill in, Port Blair. It is the oldest and the largest sawmill in the continent. Next, go to visit nearby Wandoor beach. Enjoy a beautiful sunset from here.
On day-6 head back to the airport for departure. Where to stay there are numerous hotels available in Andaman of different budget range. A typical mid-level hotel will charge around 2000 per day. Whenever you think of going to Andaman Tour Plan. Book your tour package through your trusty travel planner. Please let us know your experience of the Andaman Tour. Your suggestions mean a lot to us. Thanks for reading it.