Uttarakhand Tour– Uttarakhand is spread over 53484 square kilometers comprising 86% hilly and 65% forested areas. The Himalayas snow peaks can be seen from most of the mountain areas. But these peaks are not always visible clearly What is the right time to see them? When visiting the famous Char Dham in Uttarakhand. Which is the best time to visit?
Uttarakhand is primarily divided into two regions – Garhwal and Kumaon There is a slight difference between the languages ​​of both the regions. The language spoken in Garhwal is called Garhwali and Kumaon – language is called Kumaoni. Both these dialects are slightly similar to Hindi Therefore, people who understand and speak Hindi are everywhere in Uttarakhand. The common English of colloquial is also understood little or more in Uttarakhand. Most of the tourists visit in Uttarakhand from April to June, before the onset of monsoon.
Uttarakhand Tour – Best Travel Time
If you are traveling to some high altitude places like Uttarakhand Char Dham. Then bring warm clothes and raincoats with you. In the high altitude places in the mountains, it is very cold in the morning and evening. Even when there is severe heat in the plains. The doors of Char Dham and Panch Kedar open in the last week of April or 1st week of May after being closed for six months.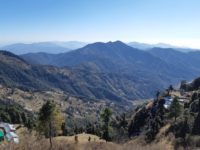 The Char Dham Yatra lasts till October last week or November first week Pilgrims can visit Chardham anytime from May to October except in monsoon. Nainital, Mussoorie, Dehradun, Haridwar, Rishikesh, etc. are the most visited places by tourists in Uttarakhand. During weekends and long holidays, the roads carry more traffic than on other days. To avoid this, travel on weekdays except instead of weekends and long holidays and stay in destinations on weekends. The highest number of tourists visit in the month of May and June in the year. But at summers snow-capped peaks of the Himalayas are rarely visible due to mist.
Traveling Tips and Guide
The best time to view Himalayan peaks is between September to April If traveling for less than 3 – 4 days, then go to any one of the areas of Kumaon or Garhwal. If you go to both regions in a short time, then Traveling by road will be very long and you will not be enough time to enjoy destinations well. We often stay in Hotels and resorts Another option is homestay 'Homestays' are rapidly developing in the villages of Uttarakhand. They are in every district you can also consider staying in a village this time.
Homestay does not offer amenities like any luxury resort, but you can experience here rural essence, untouched natural beauty, and informal and unsophisticated hospitality will win your heart Atithi Devo Bhav (Guests are like God)Tourism will take your experience to a next level. Rural tourism is a good medium to know a place and understand its culture. Keep in mind while choosing clothes for Uttarakhand Keep light warm clothes with you even in the summer. It gets cold at high altitude in the morning and evening.
Enter the places of worship by taking off the footwear, and covering your head. By giving respect to their culture and tradition, local people will be more generous and friendly towards you. Vegetarian food is found everywhere in Uttarakhand. Organic food is served mostly in the village homestay. Which are highly nutritious avoid driving at night hire rooms in some hotels before it gets dark. Markets close early in the evening in small places.
Suddenly an animal can be found in curved turns as Sometimes turns are not visible in dark. Keep enough fuel in the vehicle, so could move at least 100 kilometers from any place. Filling stations are far away in many places. And fuel may unavailable in some filling stations, especially on the Char Dham Marg route. In this article, we tried to share some useful information to help in making your Uttarakhand tour best. So that the journey is better and the experience is memorable, book your journey today