Hello friends today's topic is Budget for Ladakh Travel ride Let's discuss it in detail. I assume that you are riding your own bike And you are riding. From Delhi – Ladakh – Delhi And our budget is also going to be for same and for 15 days Let's first discuss Fuel Friend's Ladakh's round trip is around 3000 km – 3200 km.
Ladakh Travel – Bike Fuel Cost
Ladakh is having many high mountain passes the whole area is hilly And oxygen is very less in ladakh. Bike's mileage will surely drop due to these factors. And you might not get a chance to go further than 1st 2nd and 3rd gear. Let's assume that your bike's mileage is going to be 30 on round trip of ladakh. Then your  fuel cost will be 7500 Rs So friend's you are not going to spend more than 8000-9000 rs on ladakh trip.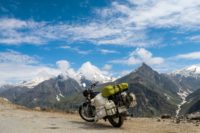 Food And Stay Cost
Let's talk about Food and Stay now What i like most in ladakh trip is cost of food and stay. Because the cost of food and stay is very cheap there if you compare all over India. As I have traveled different part of India ride many times already and I feel Ladakh is very inexpensive. Friend's A rider always wants to complete his trip in minimum amount so that he can save some money for his next ride You can get stay in Ladakh starting from 100Rs to 5000 Rs /day And it totally depends on you how much luxury you want If we calculate an average you can get a neat and clean stay between 800-1200 Rs If you are riding in a group, Then the accommodation amount will be shared by the group members. So, your total cost is going to be 1000-1200 Rs /day So friend's Total cost of food and stay for 15 days will be 12000-15000 Rs Somewhere you will spend less somewhere you will spend more Your total cost is surely going to be between 12000 – 15000 Rs.
Safety Cost
Let's talk about now for pre-ride estimate And your life is Important to yourself and as well as for your family members and riding is more enjoyable when you ride safe. So Riding gears plays a very important role in safe riding. I will suggest you to buy Riding gears before you start your ride And those who have riding gears already. They don't have to include this cost Riding gears includes Riding jacket, Riding Pant Riding shoes, and A good Helmet. Riding jacket cost starts from 5000 and can go till 15000 Rs And same for riding pant Riding shoes. Starts from 7000 and can go up to 17000 Rs And a good helmet can cost you between 3000-5000 Rs.
If your budget is high, then you can easily go for this stuff If your budget is low. Then instead of Riding Jacket you can buy Elbow and knee guards from Karol bagh. Which will cost you nearly 1000-1200 Rs And for riding shoes you can buy Indian army boots. You can get them between 1000-1200 Rs from Delhi cant.
Let's talk about Bike Service and Spare parts So friend's your bike is going to be your best friend in this trip Try to get it serviced and oiling from Delhi itself Roads are bad in Ladakh and a well-maintained bike is going to play a big role.
Let's talk about spare parts now Spare parts are very important part of motorcycle journey . Try to carry all necessary spare parts with you I will be adding a list of necessary spare parts in other article. Spare parts and service is going to cost Rs 5000 – 6000.
Ladakh Travel Emergency Fund
Now we are going to discuss our last point Emergency Fund. You can use it when in need, in case of any emergency Don't forget to carry atleast 9000 -10000 Rs extra with you. And Ladakh don't have enough ATM's, so try to carry cash with you as much as you can Friend's. The total cost is going to be between 40000-42000 Rs And you might save some money if you have riding gears already. And if your Emergency fund not used in trip as well, then the cost will drop drastically. If we calculate properly then the cost for ladakh ride sums up between 22000 – 25000 for solo rider. If you are riding in group it might cost you between 18000-22000 Rs. For me Ladakh travel ride expenses was between 20000-22000 RS. And i hope it's going to be same for you.