Goa Trip Plan|Goa Trip Cost | Goa Budget Travel Guide
Goa Budget Travel Guide – If you are planning a trip to Goa or if you want to know how much money do you need for a trip to Goa. Then this article is for you because in this blog post. I will explain everything you need to know about Goa including the nightlife and the best parties in Goa.
Places to visit in Goa
There are 5 places in goa which are absolutely beautiful and worth visiting.
The first is arambol which is also know as russian beach because of the number of Russians living here. The russian beach goa.
The next is Vagator and Anjuna which is famous for the Chapora fort. Vagator beach, Ozran beach, Anjuna beach and hilltop.
The next is Candolim which is famous for its Candolim Beach, sinquerim fort, and Aguada fort.
Calangute and Baga Beach
The next is Fontahnas in Panjim which is the capital city of Goa. And finally, the last one in South Goa, which is known for its Agonda beach and Palolem beach.
I have not included Calangute beach and Baga beach Goa. Because I would not recommend you to go there especially in December. Because it's really crowded and some of the parties here are very expensive.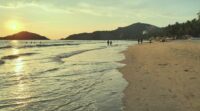 Also Read –
How many days need to explore Goa?
Itinerary You need 7 to 8 days to fully explore including North Goa and South Goa. You can spend 5 days in North goa and 2 days In South Goa. So I would recommend you to start your trip from North Goa and then go to south Goa using the train.
But if you only have 3-4 days to explore Goa and if you want to party then i would recommend to skip south Goa.
How to reach Goa?
The best way to reach Goa is by using trains. So that you can start the journey from North Goa to South Goa. There is a railway station in North Goa called thivim station. A taxi from this station will cost you 600 rupees to get to Vagator or calangute or anjuna.
but you can also get a bus from the thivim station to Mapusa bus stop then another bus to your destination. From Mapusa bus stop you can get a bus to anywhere in Goa. If you are Coming from Rajasthan, Delhi or North India I would recommend you to use the flights to come here.
You can find many cheap flights for goa. The problem with coming by flight to Goa is that the airport 50 to 60 kilometres away from North Goa. And the taxi will cost you 1500 rupees during the day and 1800 rupees during the night. You can also use a bus to come from the airport to North Goa. But you will have to change four different buses to get to North Goa but it will only cost you rs.100.
Most Beautiful Beaches in Goa
The most beautiful beach in Goa is hands down the Agonda beach in South Goa. Which has very few tourists and is absolutely clean. So if you want to explore the best beach in Goa then directly go to Agonda beach. But if you can't go to South Goa. Then the most beautiful beach in North Goa is the Ashwem beach and Candolim beach, Mandrem beach in North Goa.
Is Goa safe to travel?
Yes, Goa is absolutely safe to travel I have stayed in Goa for around 8 months and from my experience, I can say that yes it is safe but there are few things you should not do. The first is to do not get drunk and go into the sea.
The second is if you are going to do something crazy then do it with the people. You trust and the people who can take care of you if you can't handle yourself. The third is don't drink and drive because the roads in Goa are very narrow its very easy to get into an accident.
How much money do you need to explore Goa?
Ok now, this is the most important part because if you know the things to do in goa and places to visit in Goa then you don't need a lot of money.
Goa Budget Travel Guide – Goa Tourism
First let's talk about accommodation cost. The cost of Goa hotels and hostels depends on the season and during the last 10 days of December. The hotels and hostels will cost you 5 to 10 times more than normal. So that is why I would recommend you not plan a trip during the last 10 days of December. Apart from that the rest of the time you can get very cheap accommodation. If you are a solo Traveller you can get hostel for as low as 200 rupees to 600 hundred rupees per night per person.
Stay in Goa
The best hostels in Goa are Jungle hostel Goa and pappi Chula Goa. If you want to get a hotel room you can get it as low as 1000 rupees to 3000 rupees If you are traveling with your family or a group then you can book using Airbnb It will cost 3000 to 5000 rupees to get an entire apartment for 4 to 6 people. I would recommend you to use MakeMyTrip, Booking.com, and Airbnb apps to book your accommodation. But before booking anything do read the reviews of the hotel and I would recommend you to get a hotel or hostel near the beach so that you won't have to hire a cab or rent a bike go to the beach.
Food & Drink Cost
The next cost is for food For food you will need around 250 to 300 rupees per day. Eating Out is a little bit expensive in Goa because there is no street food culture here.
The next cost is for parties and alcohol The cost of alcohol is really low in Goa. b You can get a pint of beer from the supermarket for just 40 rupees and the same beer will cost you hundred rupees from a beach shack. So if you are on a tight budget then you can just buy your alcohol from the supermarket.
How much money do you need to party in Goa?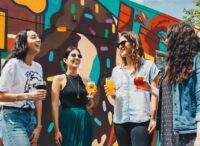 There are many different types of parties in Goa. And live music parties that are usually free or only a hundred rupees to enter. There are many parties which are free to enter such as Soro .Which is my favorite place to party in Goa. There are many rave parties that play psychedelic music such as Hilltop. Which will cost you 500 rupees to enter but you can enter for free.
If you go at 12 a.m. please note that the parties at Hilltop start from 12 in the afternoon till 10 p.m and only happen on Sundays. There are many other parties if you want to know more you can download the party hunt app to know about parties and entry fees. There are some parties in Baga and Calangute which cost you 4000 to 6000 rupees to enter. I would not recommend you to go there because it's not worth it.
Cost of renting scooter or car?
Scooter will cost you 300 rupees per day and you can rent a car for 1600 rupees And a jeep for 2500 rupees. Must-try food in food in Goa and places to eat in Goa. Goa is really famous for fish thalis and the most famous place in North Goa, and it will only cost you around 125 rupees.
The next one is my favorite place to eat dosa and it's called dosa hub which is in Anjuna. The masala dosa here is the best I have ever had and it will only cost you 70 rupees. The next one is the best biryani i have ever had in India. Its called the Bawarchi biryani and is located in Candolim. Things to know about Goa before you come here.
The taxi cost is really really high in Goa. So I would recommend you to reach Goa during the day. So that you can use public buses and renting bikes or car is cheaper than taxis. During the last 10 days of December, everything is more expensive. So I would not recommend you to come here during this time if you are on a budget.
The best time to visit Goa
The best time I would say October November January and February. The difference between peak season and off-season is that many restaurants and beach shacks and clubs night markets are closed. So this is it all about the Goa Budget Travel Guide.
Thank You For Reading…