Top Beautiful Cities in America
America is known for its diversity and mixture of cultures. And keeping that in mind you can only imagine the beauty that lies within it. Traveling the world and exploring some of the most beautiful cities in America is an incredible journey.

It's difficult to narrow down these stops to the top 15, but we've compiled such a list for you today.

The locations featured here today are known for their historic significance. Beautiful landmarks, diverse cultural events, breathtaking views, and astonishing architecture. But each city has something a little different than the last. But that's enough for the intro… let's get started.

Located in the southeast state of Georgia. Atlanta is one of the most important landmarks for both the Civil War and the Civil Rights movement.

With gorgeous lines of trees, green hills, and lavish city parks, Atlanta was appropriately named "the City in a Forest."

But there are also numerous skyscrapers that contribute greatly to the city's beauty.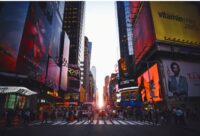 Suggested to read – Henley Passport Index 2020
Suggested to read – Bali Tourism – Best Places to Visit
Atlanta's most famous attractions include the World of Coca-Cola, Centennial Olympic Park, and the Atlanta Botanical Gardens.

You also shouldn't miss a trip to Stone Mountain Park, where you'll have the best view of the city.

When it comes to having fun, America has great things to offer and Nashville is a good example of this.

Can you think of a better place for good music, tasty food, and good old' Tennessee whiskey? From country and blues to rock and pop, to jazz and classical, Nashville has it all.

There's always something to do in Nashville and some of the best barbecue as well as their famous hot chicken.

When you're in Nashville, make sure that you visit the legendary Bluebird. Cafe for some intimate atmosphere in the city's most famous music venue.

You can also see an exact replica of Greece's Parthenon in their Centennial Park.

If you're up for something more laid-back and casual, then Portland is the city for you!
You can chill out in a café or take a long walk in Washington Park in case you're a nature lover. You can visit the famous Japanese Garden while you're there too.

When the sun starts to set, make sure you grab your spot at one of the terrace bars with a view over. The Oregon Convention Center with tall, beautifully illuminated towers.

Some of the most beautiful landscapes in the country are located here in Bozeman, Montana.

Breathtaking skylines and views from a hill over the whole city are something that many people never forget.

Even though it's not your usual go-to place when you want to wander the city streets. It's a place where you come to experience nature at its finest.

It's a perfect spot for those who love biking and hiking. And Bozeman also has the biggest collection of dinosaur bones located in The Museum of the Rockies.

This city has a pleasant college vibe. So it's a perfect relaxing getaway is the oldest European settlement that is still populated.

This beautiful city dates back to 1565 when the Spanish settlers came and established the city.

With a strong European vibe, it's impossible not to like St. Augustine and enjoy its remarkable beauty.

Museums such as the Pirate & Treasure Museum with its large collection of pirate artifacts and the Lightner Museum. Where you can enjoy numerous pieces of art, are only a few of the reasons you'll never forget a trip to St. Augustine.

This city may not have all the bells and whistles that some other cities on this list have. But what Houston lacks in quantity it makes up in quality.

Houston is filled to the brim with incredible street art and murals, giving the city a very unique feel.

The streets in Houston are wide and spacious, filled with interesting shops and restaurants.

Speaking of which, Houston is also the culinary capital of America. With more restaurants per capita than any city in America!

But, most interesting of all, Houston is home to the NASA space center.

Houston is most certainly one of the more unique hidden gems of America, and, suffice it to say. It is by far one of the most beautiful and interesting cities you could possibly visit.

Virginia Beach, as the name implies, is full of beautiful beaches where natural beauty abounds.

You can also head to First Landing State Park and watch the sunset without a worry in the world.

This just might be the best city for those who desire. A romantic atmosphere with plenty of restaurants to dine in with your loved ones.

Also, the Busch Gardens amusement park is a great destination. If you have some kids along with you and would like to have some quality time with your whole family.

With its exotic blend of diverse cultures, New Orleans represents the true meaning of the term " melting pot.'

You can't go wrong with New Orleans and its fantastic French architecture and rich Caribbean flavor.

It's home to the famous Mardi Gras festival, visited by millions of partying tourists each year.

Its cuisine is incredible and jam-packed with an array of diverse local ingredients that you can only try here.

You can't call yourself a true adventurer unless you've experienced everything New Orleans has to offer.

One of the largest cities in the northwest pacific region. Seattle boasts one of the fastest-growing economies in the United States, and it certainly shows.

Its cityscape is littered with beautiful monuments with its crown jewel being the retro-futuristic Space Needle tower.

Its music scene has always been incredibly rich. From the 40s and 50s Jazz era, all the way to the modern sound of grunge of the 1990s.

Seattle manages to create a perfect blend of old and new that leaves no visitors unsatisfied.

Home to the famous Lincoln Park, Chicago-style hot dogs, and towering skyscrapers, Chicago represents the beating urban heart of America.

If you're visiting this Windy City on the east coast, you shouldn't overlook all the attractions it has to offer.

Its famous gothic architecture and busy streets will provide you with a true representation of what urban America is all about.

Likewise, near the turn of the 19th century. Chicago opened its doors to immigrants from all around the globe. Which gave the city its incredibly diverse demographic, only adding to the metropolitan feel of this great city.

This oasis in the middle of the Nevada Desert certainly lives up to its nickname "Sin City".

Home to some of the world's most famous casinos like the Cesar's Palace and the Excalibur. As well as some of the most luxurious hotels on Earth, Las Vegas is all about indulging the senses.

An atmosphere of abundance and exuberance radiates throughout the neon-lit streets of the Vegas Strip. The home for most of its hotels, casinos, and nightclubs.

It's almost impossible not to find something to enjoy in Las Vegas.

For a true hedonist, this little island of indulgence in the middle of the desert is heaven, with just the right amount of hell. Situated in the Commonwealth of Massachusetts. Boston is home to some of the most important events in American history. Like the Boston Tea Party and the Battle of Bunker Hill.

Being one of the oldest cities in America, it's difficult to go down the street. Without bumping into some little snippet of its glorious past.

From its architecture to its monuments, museums, and parks. Boston is a gold mine for anyone looking to satisfy their desire for history. And knowledge about where the Great Experiment started.

Boston Harbor is also a beautiful site just beyond the towering skyscrapers.

You can't have a list of the most beautiful cities in America without mentioning New York City.

The Big Apple is not just one of the most beautiful cities in America. But one of the most beautiful in the world.

Its incredible cityscape is unparalleled. From Central Park to the Empire State Building. New York is absolutely packed with some of the world's most breathtaking landmarks.

Nightclubs, restaurants, museums, parks, monuments, stadiums, shops—New York has them all.

Charleston has been named as the number one city not only in the U.S. But the entire world by Travel and Leisure Magazine, and there are many reasons for this.

Everywhere you turn in the city is another beautiful site. From the famous rainbow row to the iconic pineapple fountain and the historic marketplace.

Charleston is also known as the holy city because of its many beautiful and historic churches.

Make sure you also visit Charleston Harbor and Fort Sumpter where the Civil War started.

Finally, we've reached number one on our list.

The pick was very hard to make, but Los Angeles definitely deserves the number one spot. The City of Angels.

The place where summer never ends.Home to Hollywood as well as most of the entertainment industry that we enjoy today.

L.A's nightclubs are some of the best in the world, and its beaches are unparalleled in their splendor.

The people who live there are diverse and always look to have a good time.

Chances are that if you happen to be just strolling down Venice Beach. You might just run into that famous movie star or celebrity. You've been gushing over or that singer whose song you just can't seem to get out of your head.

In the City of Angels, that is a completely normal occurrence.

L.A is everything you've ever dreamed about and more. And that is precisely why it's placed number one on our list.

So, we've come to the end of our 15 most beautiful cities in America. We hope we've inspired you for your travel plans even just a little bit.


Did you know that New York City has more inhabitants than some states?

About 8.3 million people live in the Big Apple. While Main, Montana, and New Hampshire have around a million people each.