Things to do in Miami
Miami, the vibrant coastal city in the sunshine state of Florida, is a hub of endless possibilities and exciting experiences. With its stunning beaches, diverse culture, and thriving nightlife, Miami offers many activities for visitors to indulge in. Whether you're seeking relaxation, adventure, or a mix of both, this tropical paradise has something to captivate everyone's interest.
Also, traveling to Miami is easy now since Delta Flights fly to and from Miami. This opens up many options for people looking for budget travel, making cheap flights to Miami a real thing. This article will explore some of the most remarkable things to do in Miami.
Enjoy Miami's Beautiful Beaches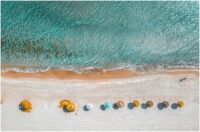 No trip to Miami is complete without spending time on its breathtaking beaches, and is one of the best things to do there. Head to South Beach, known for its iconic art deco architecture, vibrant atmosphere, and crystal-clear waters. Enjoy sunbathing, swimming, or simply strolling along the shoreline as you take in the lively energy of the city. Fun Things to Do in Miami | Flights to Miami
For a more serene beach experience, visit Crandon Park Beach, where you can relax amidst lush landscapes and enjoy water sports like kayaking and paddle boarding. Enjoy the stunning sunset views at Key Biscayne, another picturesque beach destination. Miami's beaches offer the perfect blend of relaxation and fun in the sun.
Explore the Bustling Neighborhoods
Miami has a rich cultural tapestry; exploring its diverse neighborhoods is necessary. Visit Little Havana, the heart of Miami's Cuban community, and immerse yourself in its vibrant atmosphere, colorful murals, and authentic Cuban cuisine. Discover the artistic enclave of Wynwood, known for its vibrant street art scene, trendy galleries, and stylish boutiques.
Explore the historic district of Coconut Grove, where you can wander through charming streets, shop at boutique stores, and dine in waterfront restaurants. For a taste of the high life, head to Brickell, Miami's financial district; this boasts luxurious shopping malls, upscale dining options, and stunning skyline views. Each neighborhood has a distinct personality, making it one of the most fun things to do in Miami's multicultural mosaic.
Indulge in Art and Culture Fun Things to Do in Miami | Flights to Miami
Miami is a haven for art enthusiasts and culture lovers. Visit the Pérez Art Museum Miami (PAMM), which houses an impressive modern and contemporary art collection worldwide. Explore the sprawling grounds of Vizcaya Museum and Gardens, an architectural gem with stunning gardens and an opulent mansion. If you're interested in street art, visiting the Wynwood Walls is necessary.
This open-air museum showcases vibrant murals by renowned street artists. To taste Miami's performing arts scene, catch a show at the Adrienne Arsht Center for the Performing Arts, home to the Florida Grand Opera, Miami City Ballet, and other world-class performances. Immerse yourself in the city's rich cultural heritage through its numerous museums, galleries, and artistic events.
Embark on a Culinary Adventure
Miami's culinary scene is as diverse as its population, offering a delicious fusion of flavors worldwide. Sample authentic Cuban cuisine at Versailles Restaurant in Little Havana, known for its delicious Cuban sandwiches and strong cafecito (Cuban coffee). Explore the culinary delights of Latin America in the vibrant neighborhood of Calle Ocho, where you can savor empanadas, ceviche, and other traditional dishes. For seafood lovers, visit Joe's Stone Crab, a Miami institution renowned for its fresh seafood, particularly the famous stone crab claws. Take advantage of exploring the city's food markets and trucks, where you can indulge.
Some facts you should know before planning a trip to Miami
Is Miami Beach safe?
Not to mention Miami Beach is more generally safe for tourists, even at night. The safest places in Miami are Coral Gables and Coconut Grove. However, solo tourists should only work in tight areas After Dark. Sticking with famous districts and tourist areas is recommended for Solo travelers.
How is the climate in Miami?
It is a place that is generally sunny and hot throughout the year. The temperatures in Miami are highest during August. They have a tropical monsoon climate with humid summers and short word winters. Therefore Travellers are recommended to visit near me between March and central to enjoy the daily temperature and travel to their heart's content.
How many days is enough to travel to Miami?
Miami is such a place that any tourist old love to stay as long as possible. However, this hugely depends upon the Traveller's travel recommendations and their budget, which involves the airlines they choose. United Flights are very budget-friendly and a good option for those on a tight budget. If the Traveller is looking forward only to visiting and doing a beach-related beach-related activity, then around 3 to 4 days are enough for them. However, Travellers looking forward to exploring and understanding the place better might need more time for traveling, like more than a week.
Are beaches accessible in Miami?
The Tropical Getaway is popularly known for its beautiful beaches. They have a fantastic coastline full of fun activities. There are many beautiful beaches in Miami, and if you are looking forward to visiting Free beaches, they are like- South Beach, Ocean Drive, Haulover Beach, and many more. Other than beaches, they are also many free tourist spots to visit. Moreover, travelers don't have to worry about visiting famous beaches since they are affordable and usually cost between 2 USD and 8 USD.
Is Miami Beach family as well as pet friendly?
Well, beaches in Miami are very strict. Most of the beaches do not allow their visitors to drink alcohol. Miami Beach, a popular spot for families for their vacation, provides plenty of safe and fun activities for children to enjoy. Moreover, travelers should also know that many beaches allow pets. However, they must remember to read about the rules and regulations.
Miami is a city that offers an incredible array of activities and experiences for visitors of all interests. From stunning beaches and vibrant neighborhoods to its rich cultural heritage and thriving nightlife, Miami has something to captivate everyone's imagination.Destination flights to Miami are very popular, and thanks to several different airlines, airline reservations, flight booking, and ticket reservations are now more manageable. Whether you're seeking relaxation, adventure, art and culture, culinary delights, or an electrifying nightlife scene, this tropical paradise has it all. Fun Things to Do in Miami | Flights to Miami
Also read – 10 Best Night Markets in Bangkok