Process – Iranian Tourist Visa
Today here we are going to tell you about How to apply and get Iran Tourist Visa. The Iranian tourist visa many travelers think that getting an Iranian tourist visa is difficult. But in this article, you will see how easy the process. If you are from one of these below-shown flag countries you don't have to apply for an Iranian tourist visa. You can see the allowed duration that you can stay in the country Free Zones.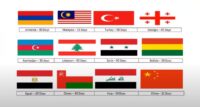 Kish and Qeshm are two beautiful islands in the Persian Gulf that you can visit for a maximum stay of 14 days. Without needing a visa now let's go through the step-by-step process of the Iranian tourist visa.
How to apply and get Iran Tourist Visa:- You can apply for an Iranian tourist visa in two ways
Direct application
You can go to the official website and submit your visa application to the ministry of foreign affairs. Which most people do not recommend. Because we see many cases being rejected and upon rejection. They were asked to attempt via a reliable travel agency. 
Indirect application
Ask a trusted travel agency to submit your visa application. To the ministry of foreign affairs. These are the documents that you should email to the travel agency. Filled out the Iranian visa form the blank form is sent to you by the agency. There is an important section in the form which asks you where you wish to collect your visa you have two options.
Suggested to Read – Free Visa Country For Indian Tourist
1. You can nominate any Iranian embassy or consulate
2. You can collect your visa at the airport.
The second option is recommended. Because it's much easier than the hassle of going to the embassy. You should also take into account that a visa on arrival is as safe as picking up the visa at the embassy. 
Documentation
A digital image of the first page of your passport the digital image of your passport. Must be in color and clear and all characters must be readable. Please be noted that your passport. Should be valid at least six months after your actual arrival date. Digital personal photo the digital image of your personal photo. Must be in color and taken in front of a plain white or off-white background.
Photos digitally scanned from drivers' licenses or other official documents are not acceptable. In addition snapshots magazine photos low quality vending machine or mobile phone photos and full-length photographs are not acceptable. 
Travel Itinerary it's needed only. If you have already made travel arrangements. So after you have emailed the documents to the travel agency. They will submit your visa application to the ministry of foreign affairs. In the following, three to five working days after the agency receives your visa authorization number.
This means your visa application has been approved. By the ministry of foreign affairs. And now you're ready to collect your visa either from the embassy or on arrival at the airport known as "VOA".
To collect your visa from the embassy or consulate keep your printed authorization number plus your passport. You will be asked to fill out the visa form there the good news is right after. You present the documents to the officer and you pay the visa fee there.
Visa Issuance
They will issue your visa within a few minutes or few hours. I suggest you call the embassy in advance and ask them the right time to go and make sure. If they need any extra documents visa on arrival "VOA" the nationals from these countries cannot go through the "VOA". Process and they have to collect their visa from the embassy or consulate. Also, journalists and reporters who travel to Iran on a mission cannot get a "VOA" either.
To collect your visa from the airport keep your printed authorization number. Your passport travel insurance and the visa fee. Should be paid only in cash.
The point is the non-Iranian cards like Master or Visa cards do not work in Iran and you need the cash for the whole trip.
Travel Insurance
If you already have a travel insurance plan make sure that Iran is included in its coverage. And the name Iran must be mentioned. Otherwise, you can buy the insurance upon your arrival. At the airport which is approximately 15 Euros per person.
Visa Fees – Iran Tourist Visa
There are two fees to be paid for the visa. One is for the authorization number application. Which is paid to the travel agency second is for the visa itself.
Which you pay at the place of your visa collection the amount of visa. Depends on one's nationality and it ranges from 30 to 75 Euros.  Visa validity and extension the maximum validity of a traveler's stay with a tourist visa is 30 days. And it's regarded as a single entry to stay longer the visa should be extended. Once you have traveled to Iran you can extend your visa. A total of two times each for 30 days this means you can stay a maximum of 90 days in Iran.
In order to extend the visa time limit, the applicant should visit the passport and immigration office. Located in many major cities and it will cost less than 10 Euros. At the end of this article, I would like to add two more points. One some travelers are concerned about the Trump order in March 2017 restricting travel to the U.S for those. Who has visited Iran in addition to Libya, Somalia, Sudan, Syria, and Yemen? 
The good news is to alleviate the travelers' concerns over the U.S sanctions on individuals. Visiting Iran the passports of travelers entering Iran will not be stamped. The stamps will be on a separate document so no one will ever find out that they've been to Iran  Two. Everyone with an Israel stamp in their passport, within the past 12 months is at a high risk of getting rejected. So this is it in How to apply and get Iran Tourist Visa to explain step by step here.